THE ACTUAL FOOTBALL THAT MADE THE FIRST TOUCHDOWN AT BARNITZ STADIUM IN THE FALL OF 1950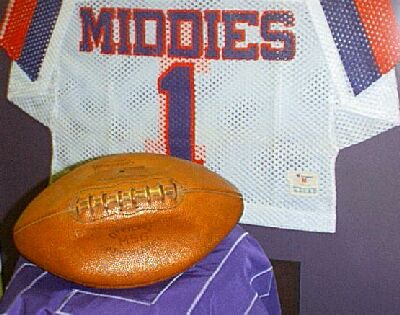 THE CLASS OF "51" MIDDIES, OPENING THEIR 1950 SEASON AT THE NEW BARNITZ STADIUM PLAYED DAYTON FAIRVIEW AND WON THE GAME 28-0

THE INITIAL SCORE IN THE NEW STADIUM, WAS A PASS FROM QUARTERBACK, KEN FEINTHEL, TO END GEORGE STRODTBECK.

THE BALL IN THE PHOTO ABOVE IS THAT ACTUAL FOOTBALL .

AT THE END OF THAT FIRST FOOTBALL GAME AT BARNITZ, MIDDIES COACH GLENN "TIGER" ELLISON PRESENTED THE ABOVE FOOTBALL TO END GEORGE STRODTBECK WHO KEPT THE FOOTBALL IN HIS POSSESSION FOR 50 YEARS.

DURING THE 50TH REUNION OF BARNITZ STADIUM IN THE YEAR 2000, A REINACTMENT OF THAT FIRST TOUCHDOWN WAS PERFORMED DURING THE HALFTIME CEREMONIES BY A NUMBER OF THE SENIOR CLASS OF 1951'S FOOTBALL TEAM TAKING TO THE FIELD THAT EVENING. MANY OTHER MEMBERS OF THE CLASS OF 1951 WERE ALSO ON HAND, SEATED IN THE STANDS THE EVENING OF THE 50TH REUNION CELEBRATION.

AT THE CONCLUSION OF THE HALFTIME FESTIVITIES, MR. STRODTBECK ALONG WITH THE OTHER MEMBERS OF THE FOOTBALL TEAM PRESENT THAT EVENING, MADE A PRESENTATION OF THE ORIGINAL FOOTBALL TO THE SUPERINTENDENT OF MIDDLETOWN SCHOOLS; DR. WAYNE DRISCOLL WHO WILL SEE THAT THE "FIRST TOUCHDOWN FOOTBALL" FINDS IT'S RIGHTFUL PLACE IN THE MIDDLETOWN HIGH SCHOOL TROPHY CASE

MEMBERS OF THE FOOTBALL TEAM FROM THE CLASS OF 1951

DECEASED CLASSMATES NAMES ARE SHOWN IN RED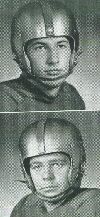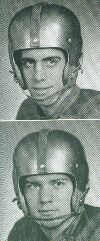 GEORGE STRODTBECK

END

GEORGE WILSON

TACKLE

RON COX

CENTER

DICK FIESSINGER

HALFBACK

DOUG HELSEL

TACKLE

CHARLIE BEE JOHNSON

FULLBACK

ALEX McCARTY

HALFBACK

KEN FEINTHEL

QUARTERBACK

BILL ANGEL

CENTER

EDDIE MERCHANT

HALFBACK

PAUL MOORE

END

DON MYERS

GUARD

HENRY ROGERS

GUARD

ALAN SPINDLER

END

BELOW IS THE SEPTEMBER 16, 2000 ARTICLE BY JERRY NARDIELLO REGARDING THE 50TH REUNION CELEBRATION AT BARNITZ FIELD

ALSO SHOWN LEFT TO RIGHT; CHARLIE BEE JOHNSON, RON COX, BILL RIGGS,

AND RALPH KAH